All Reich, calm down! Hitler 'spent months living in Liverpool flat' that was later destroyed by the Luftwaffe

Adolf Hitler spent five months in Liverpool, wandering around the city and relaxing in the Poste House pub, pint in hand.
He also enjoyed a sightseeing tour of London and was so fascinated by Tower Bridge that he bribed his way into the engine room so he could see the machinery at work.
The claims come from an author exploring a long-held theory that the 23-year-old Hitler shared a flat in the city before World War I.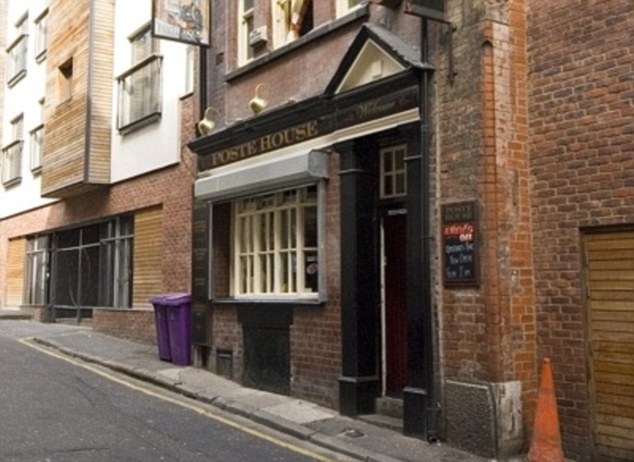 Hitler's local: The Poste House pub was a favourite haunt of the future Fuhrer when he lived in Liverpool, the documentary claims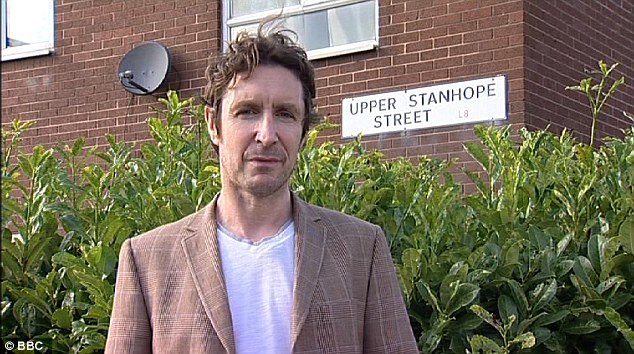 Hitler's old street: Actor Paul McGann in the BBC documentary exploring Hitler's supposed stay in Liverpool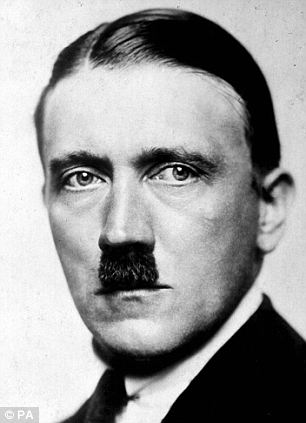 Young man avoiding a war? Adolf Hitler came to Britain to allegedly dodge being conscripted into the Austrian Army before World War One (picture taken in 1923)
In his book, The Hitlers of Liverpool, Mike Unger claims the future Fuhrer fled to Merseyside from Vienna, to avoid national service. He says Hitler stayed in a flat in Toxteth with his married half-brother Alois from November 1912 to April 1913.
The flat was destroyed by Luftwaffe bombers during World War II.
Unger's claims come under scrutiny in a BBC documentary which aims to uncover the truth or fiction behind the tale. The suggestion that Hitler lived in the city first appeared in the little-known memoirs of his sister-in-law Bridget Dowling.
Written in the 1930s as Hitler's notoriety began to grow, My Brother-in-Law Adolf failed to find a publisher and many historians dismiss the manuscript as a ploy by her to make money from the infamous family name. In the documentary, Unger tells actor Paul McGann that he believes there is strong evidence to support the story.
Irish-born Bridget, who reverted to her maiden name, explains in her memoirs how she met Alois in her native Dublin where he was a waiter. She eloped with him to London where they married before settling in Liverpool.
On March 12, 1911 their only child, William Patrick, was born in the couple's three-bedroom flat at 102 Upper Stanhope Street, Toxteth. According to the new Mrs Hitler, Alois was 'volatile' and a chronic gambler who was 'always about to make his fortune'.
After a big win in 1912 he dreamed of building up his safety-razor business with his sister Angela's husband so he sent travel money for them both to visit from Vienna.
But Adolf took the money and travelled over instead – to his half-brother's fury as Alois and Adolf never got on.
At the time Adolf was practically destitute and working as a part-time labourer in Vienna.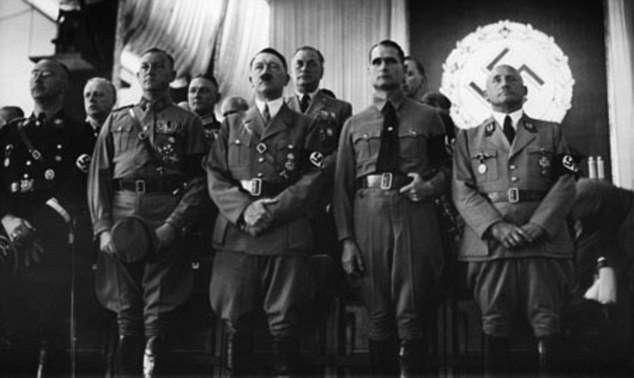 Dictator and monster: Hitler, centre, with fellow Nazi leaders at the party's spiritual home in Nuremburg, Germany
FROM IDLE DRIFTER TO GLOBAL DICTATOR: THE RISE OF HITLER
Adolf Hitler was considered to be little more than an idle loafer by family and friends in the run-up to the First World War, when it is claimed the artist attempted to avoid national service.
But he eventually joined the Army in 1914, serving on the Western Front and gaining an Iron Cross for bravery despite not being considered as having leadership potential.
After the war ended in 1918, Hitler felt anger towards the rulers and military elite of Germany who agreed to an armistice, as well as blaming Jews for defeat.
He became involved with politics, first with the tiny German Workers Party, before assuming the leadership in 1921 of the re-named National Socialist German Workers Party.
Within 12 years the party was the largest in Germany, and Hitler became Chancellor in 1933, well on the path to absolute dictatorship, aggressive expansion and eventual global war.
His arrival in Liverpool prompted Alois to suspect his half-brother was trying to dodge conscription into the Austrian army. 'He's just a good for nothing,' he allegedly told Bridget. According to her, Alois confessed: 'Adolf has been hiding from the military authorities, consequently from the police, for the last 18 months. That's why he came here to me. He had no choice.'
Bridget wrote that in his five months at their Toxteth home, Hitler was an unprepossessing and lazy guest.
'Adolf took everything we did for granted and I'm sure would have remained indefinitely if he had had the slightest encouragement. After the first few weeks he would often come and sit in my cosy little kitchen playing with my two-year-old baby, while I was preparing our meals.' She said her husband showed Adolf power plants, river cranes and the inside of ships and as soon as her brother-in-law knew his way around Liverpool he began disappearing by himself, not returning until late in the evening.
'He said he was looking for a job, but since he knew only a few words of English and never left early in the morning, it was always my opinion that he just wandered about Liverpool.' As the visit lengthened, relations between the two brothers became more and more strained to the point when, in April 1913, Alois allegedly bought his half-brother a ticket to Germany and put him on a train.
Adolf set up home in Munich, fought in the First World War and then began his climb up the political ladder by joining the German Workers' Party, precursor of the Nazis.
The documentary, to be shown on BBC North West on Monday, interviews historian Professor Frank McDonough and Unger as they argue over the evidence.
Professor McDonough says that rather than idling around Liverpool, there is evidence that Hitler was actually in Vienna during those five months.
An anti-war speech written by Albert Einstein just before he fled the Nazis is to go under the hammer next week and is expected to fetch up to £20,000.
Scrawled on the back of a telegram, it was an impassioned plea for the world to unite against aggressive military powers.
The speech is thought to have been delivered at a pacifist conference in Amsterdam in August 1932. Einstein received death threats and fled with his family to the U.S.
The telegram is part of a books and manuscripts sale at Bloomsbury Auctions on Tuesday.